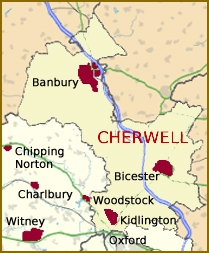 Explore the rest of the county:

| | |
| --- | --- |
| Cherwell is a predominantly rural district in character. In the north there are soft rolling hills whilst it is much flatter in the south, especially around Bicester. The centre of Cherwell is mainly a limestone plateau and and there is a wetland moor half way between Bicester and Oxford. Cherwell district is named after the river of the same name which flows through it from north to south. | |
The rolling hills in the north-west of Cherwell are ironstone and houses and cottages built using the stone glow with the stone's beautiful golden-brown colour. The hills are part of the Cotswolds Area of Outstanding Natural Beauty. The wetland moor in the south is the clay Vale of Otmoor. Otmoor (or Ot Moor) is a 400 acre area of wetland and wet grassland encircled by the "Seven Towns" of Otmoor: Beckley, Noke, Oddington, Charlton-on-Otmoor, Fencott, Murcott and Horton-cum-Studley. Since 1997 a large part of Otmoor has been made an RSPB nature reserve, with large areas of land being returned to marshland.
The River Cherwell, with its source in Northamptonshire, is the only river of any size in Cherwell district and it has three main, but small, tributaries, namely the rivers Sor, Swere and Ray. The River Cherwell joins the Thames in Oxford.
The largest town in Cherwell is Banbury in the north. The second town is Bicester in the east.
Alphabetical Listing:
A
Adderbury, Alkerton, Ambrosden, Ardley with Fewcot, Arncott

B
Balscote, Barford St. John, Barford St. Michael, Begbroke, Bletchingdon, Bloxham, Bodicote, Broughton, Bucknell, Burdrop

C
Caversfield, Charlton-on-Otmoor, Chesterton, Claydon, Clifton, Cottisford, Cropredy

D
Deddington, Drayton, Duns Tew

E
Epwell,

F
Fencott, Finmere, Fringford, Fritwell,
H
Hanwell, Hardwick, Hempton, Hethe, Hook Norton, Horley, Hornton, Horton-cum-Studley

I
Islip
M
Merton, Middle Aston, Middleton Stoney, Milcombe, Milton, Mixbury, Mollington, Murcott


N
Newton Purcell, Noke, North Aston, North Newington

O
Oddington

S
Shenington, Shipton-on-Cherwell, Shutford, Sibford Ferris, Sibford Gower, Somerton, Souldern, South Newington, Steeple Aston, Stoke Lyne, Stratton Audley, Swalcliffe

T
Tadmarton

U
Upper Heyford

W
Wardington, Wendlebury, Weston-on-the-Green, Wigginton, Wroxton

Y
Yarnton