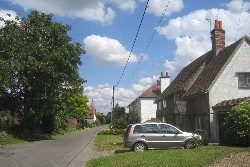 Although Appleford-on-Thames is close to the River Thames, and its name implies it is on the river, like several of the Thames-side villages the big mystery for a visitor is just where is the river? For there is no obvious sign of it! In fact the river is less than 500 metres to the north of the village centre, but there is no direct access to it from this part of the village.
Appleford was once a key crossing point along the river and there was once a bridge over the Thames here. As well as the present parish church of St. Peter and St. Paul it is known that there used to be a church (dedicated to Saint Mary Magdalene) at the south side of the bridge.
This area of Oxfordshire was, until the middle of the last century, part of Berkshire and historically Appleford was a place where apples from the Harwell orchards were carried across the Thames into Oxfordshire.
In the centre of the village is the start of Church Street which leads to Manor Farm and the parish church, and from the church a footpath starts which is the only public access to the River Thames. The river is about 1 km to the east along this path.
Appleford-on-Thames is north of Didcot and west of Sutton Courtenay on the B4016.